Office Supplies: A Note by Any Other Name?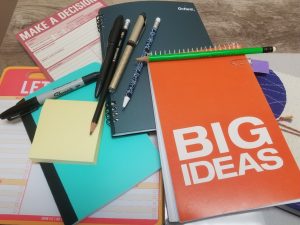 That great staple from the past—the Post-it note—falls short when you need to make plans or write down an idea that you don't want to lose. The ultimate note-taker needs tools for the 21st century, and here is a mention and a review of two useful products.
Introducing:  AquaNotes®  a "waterproof notepad that allows you to record your great ideas while you're in the shower.  It's so durable you can even write underwater.  They're recyclable, environmentally friendly, and the notepad is printed with soy-based ink."
The editor has not tried AquaNotes, but it sounds promising. The webpage includes a video link so the potential customer can see how it works before making an order. AquaNotes waterproof notepad is also available through that amazing supply store in the jungle.
This editor's tried and true brand of notepad is by Knock-Knock®; first, their large pads have a hard back. This is essential to serious planning people. An added bonus, Knock-Knock pads are hilariously inspiring. With sections, there is plenty of space to write, and the section headings help a person organize their to-do lists.
Knock-Knock has about twenty pad choices for different occasions. To get motivated, choose "Let's Do This." The hard-back pad is broken up into sections including "gotta do," "oughta do," and "never, ever do." The pad features a place to put your pen or pencil, and a bit of blank space for doodling. Get it? Doodling?
Ever-useful is Knock-Knock's "Make a Decision" notepad. There is a spot for listing one's dilemma, and suggested due dates for having the dilemma resolved. There are plus and minus columns, and a place to compare your intuitive answer with a rational conclusion. Once the decision is made, the bottom of the notepad page has a place to list your "next steps" so that your decision doesn't remain simply a dream.
Whatever your favorite, the perfect-for-you notepad can make or break your productivity. Don't hesitate to try out lots of notepads and notebooks until you find what keeps you organized and feeling in charge of your life. Office supplies are available in stationary store, office stores, or you can browse through that amazing supply store in the jungle. Happy hunting!